New Features
New First Run Experience
Improves the experience of launching Papers for Mac for the first time.
You can now optionally create, or sign into, your Papers Account when setting up your library.
Syncing Improvements
We now support syncing your library between desktop versions of Papers using other syncing services, in addition to Dropbox. We have tested the following services:
Syncing with Papers for iPhone and iPad continues to require either Dropbox or Local Network Syncing. You can learn more about syncing your Papers Library on our Knowledge base.
You no longer need to provide your Dropbox credentials when syncing using Dropbox. Just place your Papers Library into your Dropbox folder and Papers will handle the rest.
The Syncing preferences screen has been simplified.
Subscriptions
It is now possible to purchase a subscription license to Papers, in addition to our existing one-time licenses. Learn more about subscription licenses on the Papers Blog.
Citations
Citations supports citing with Manuscripts, a new writing tool for researchers.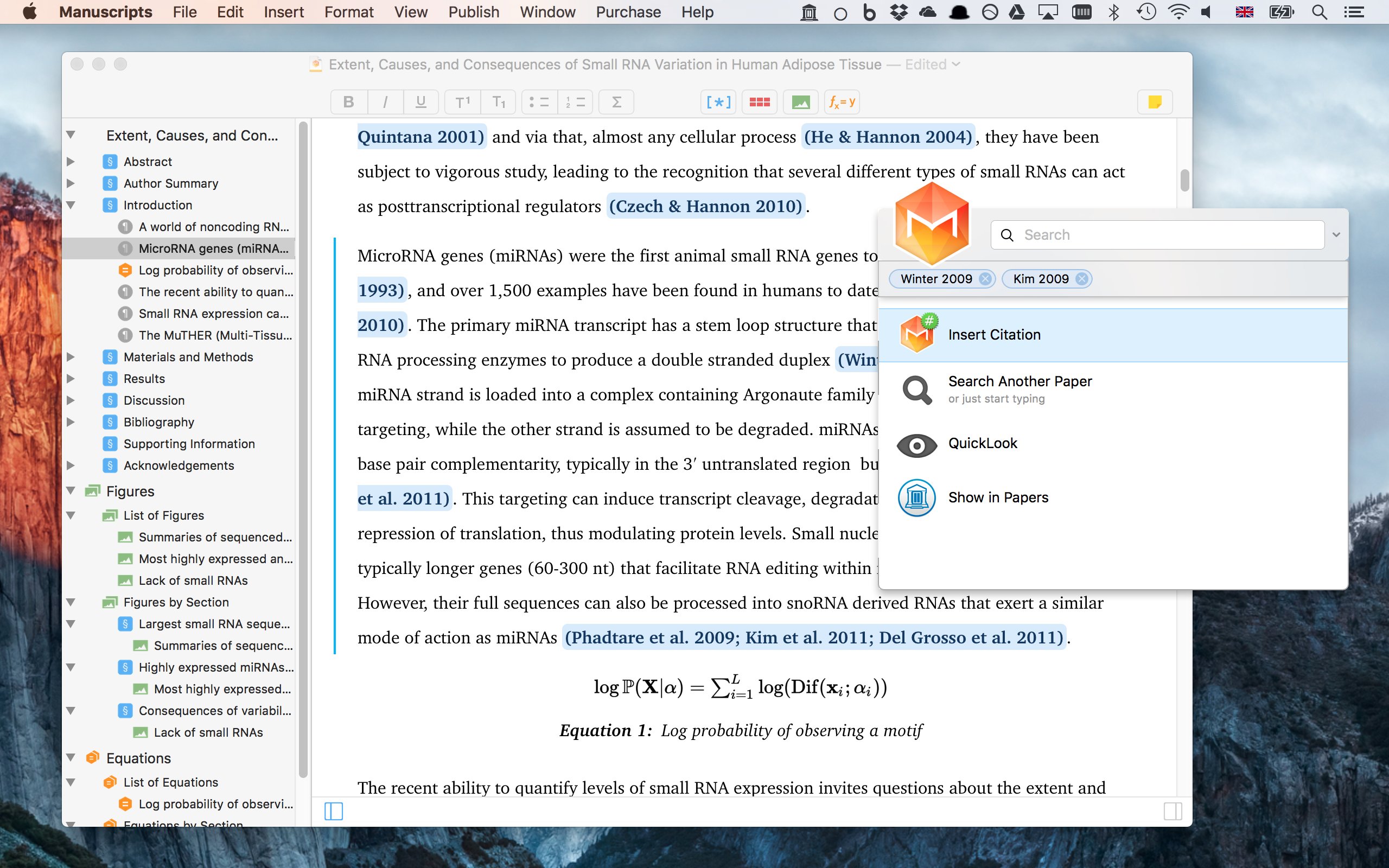 Fixes
Papers no longer becomes unresponsive for a few moments shortly after creating a new library.
Fixes a crash when trying to present certain database related errors.
Creating a library via maintenance mode (by holding ⌥ at startup) now presents the new first run experience.
Papers no longer asks you whether you enjoy using Papers seconds after you start using Papers for the first time.
Papers correctly handles directories called __MACOSX found inside checkpoint files.
Improves reliability of PDF indexing.
Adds support for using the virtual disk in El Capitan by updating the bundled version of OSXFuse to 2.8.1. If you have already installed an older version of OSXFuse, you can update via: System Preferences ▸ Fuse for OS X ▸ Check for Updates.
It is no longer possible to get stuck on the Update screen if your Papers license or trial has expired.
Requests to aps.org websites are throttled to one request per 30 seconds to prevent hitting the aps.org rate limit.
Your Papers Library no longer has to be named Library.papers3.
It is now possible to use Local Network Sync to synchronise files whose names contain non-latin characters.
Resolves an occasional issue where files attached to publications already in your library that are added via a sync are not visible until restarting Papers. ​
Mac OS X Support
Versions 3.4.0 and later of Papers 3 for Mac require Mac OS 10.9 or higher. You can learn more on our Knowledge Base.