To read and annotate papers in your library, open them in the Reader screen. There are multiple ways to open a single or multiple selected publication in the Reader screen:
Double click selected publications
Right click > Open in Reader
Click 'Read' button in the Inspector Overview tab
Keyboard shortcut cmd + enter

You can open multiple PDFs in different tabs in the Reader mode. If you would like to open the same papers in the Reader tabs that you had open last time before you closed Papers, go to File > 'Reopen Reader Tabs From Last Session'. In addition you can set Papers to always open tabs from the last session in the preferences.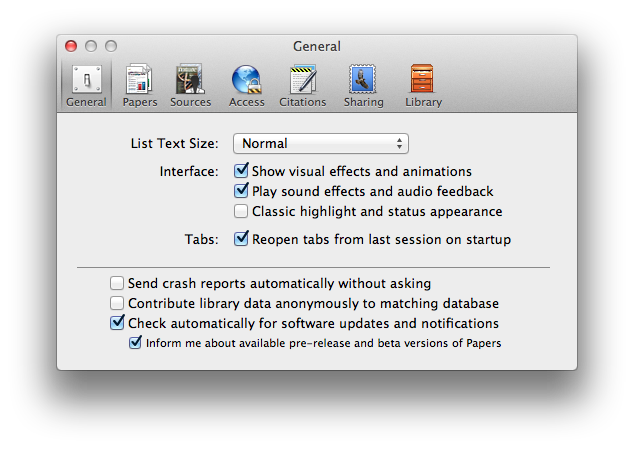 You can rearrange the order of the tabs in the Reader screen by dragging the tabs. If you open more than six tabs in the Reader, you can only see the last six articles in the Reader tabs and the rest are hidden behind a three dotted icon. If you want to close a publication that is one of the hidden tabs, you can close it by selecting the publication and using the keyboard shortcut Shift + Cmd + W.
Using keyboard shortcuts in the Reader screen
Cycle tabs Cmd + `
Previous tab Shift + Cmd + left arrow
Next tab Shift + Cmd + right arrow
Close Tab Shift + Cmd + W
Close All Tabs Alt + Cmd + W
Next page Cmd + down arrow
Previous page Cmd + up arrow
Go to page Alt + Cmd + G
Search in PDF Cmd + F
Rotate page right ctrl + Cmd + R
Rotate page left ctrl + Cmd + L
Text selection mode Ctrl + T
Highlight mode Ctrl + H
Underline mode Ctrl + U
Strikethrough mode Alt + S
Create note Ctrl + Cmd + N